Today, all business brands are essential to exceed the personalized needs of their customers in real time and at scale. And as the marketers tasked with delivering on these promises, the only way you can accomplish this; is with a group of technologies that involve a massive form of tools, platforms, processes, and applications that used to market online products and services. The name of the game is marketing technology Stack (MarTech). There's no disallowing that the "MarΤech" space is booming. In April previous year, report by Forrester Research predicted that marketers in the US will increase their spend in related technologies by 27% over the next three years, allocating more than $122 billion to ΜarΤech by 2022. Scott Brinker has been tracking marketing technologies since 2011 when he first published the famous MarTech landscape containing just 150 technologies. Over the last seven years this number has steadily increased and the 2018 landscape showing a 27% growth YOY with 6,829 recorded technologies.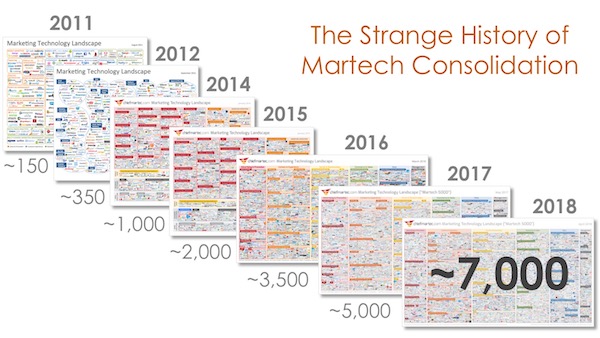 Digital Marketing 101
The role of digital marketing is to help you get found, get noticed, get leads, and then turn those leads into returning customers. The ideal combination of MarTech tools for your brand should include a mix of marketing essentials, such as:
Marketing to 1st party data: own media is any digital channel that you build and control, such as your website or app, a social media page (paid most of the times), or your blog. Owned channels are the foundation of your online dignity.
Marketing with 3rd party data: paid media is anywhere you must pay to play. Using retargeting, Pay Per Click (PPC) and display ads is an effective and more direct way to drive quality users to your owned media properties. Display ads, social ads, and branded content are other good examples of paid digital advertising (Google, Facebook, premium publishers, programmatic, PR).
Marketing to your audience
Your audiences aren't confined to a single brand experience. They're interacting with your brand in an ever-changing way. They meet you at all hours, in all places, with all their unique offers, across multiple channels. This leaves marketers with the challenge of maintaining a consistent experience. Omnichannel marketing allows you to meet that challenge. When you start collecting customer data it is a good time to start re-marketing your CRM database properly. If you are not Netflix or Amazon, or even a well-funded growth focus startup with resources that can help you build your own stack by consuming various platform APIs you probably see yourself in one of the following categories:
Absence of customer: the biggest benefit for marketers to sell through marketplaces points to the ability to reach consumers where they prefer to buy. But that increased brand reach comes at a price; absence of customer data.
Data silos: are the biggest barrier to consistent and personalized digital experiences. Siloed budgets and strategies destroy your brand's digital experience potential, so it's clear the focus should be on integrating key components of your marketing technology stack. Companies that integrate best of type technology are more likely to provide personalized customer experiences.
Online naïve: marketing campaigns will be more professional because won't receive multiple copies of an offer, or even slightly different offers, at the same time. An email list solves some of your biggest affiliate and online marketing problems. email lists, most probably flat and continuous broadcast emails
Online automations: is designed for marketing departments and organizations to more effectively market on multiple channels online (such as email, social media and websites) and automate repetitive tasks. It's what gets you there, and it's made up of all kinds of campaigns, activities and other goodies that help you follow leads while relying on the criteria you need.
Loyalty is the new marketing
A Loyalty Program is a marketing tool used by all types of brands to motivate repeat customers by offering some type of reward system. Setting up a loyalty program for your brand is possibly the first serious step to building a bond with your customers. A customer loyalty program is a structured and long-term marketing effort which provides motivations to repeat customers who express loyal buying behavior. Put simply, loyalty is the way to go because it augments the marketing message with value returned back to the customer by the brand. It's not about points, coupons or discounts, it's about value, convenience, lifestyle, sense of participation and expression of participation. To build loyalty and increase customer retention, brands must create habit and engage their consumers. As an illustration, Netflix broke the frame with original programming, and may have forever changed the loyalty marketing model.
The reason why premium loyalty programs are gaining popularity, is that members want the benefits that programs like Amazon Prime. Amazon had 101 million members of its Prime loyalty program in the United States as of December, according to new estimates from Consumer Intelligence Research Partners (CIRP). The retail giant added 6 million U.S. consumers to Amazon Prime in the second half of 2018, with two-thirds of those new signups joining in the fourth quarter, CIRP estimates. If brands want to beat out the competition in 2019, their loyalty programs, their strategy and their technology must constantly advance to keep customers at center focus and loyal. The new trend in customer experience and optimization of customer journeys is to design them as a loyalty product by identifying all moments of truth that would deliver value back to the customer.
Putting all together
Agility in execution and productized knowledge can be achieved through Warply Engage omnichannel platform. With the following advantages of having a single platform to rule them all.
Customer Value: Design and adjust your customer's loyalty segments, add rewards based on real time actions, optimize cross and up selling. Create your loyalty strategy with just few clicks and increase customer value with us.
True omnichannel: There are two options in digital marketing, either build your own marketing stack or work with us. Warply Engage automates (80%) of our day-to-day work, optimizing not only our customer retention programs but also our supplier product campaigning and listing fee calculation.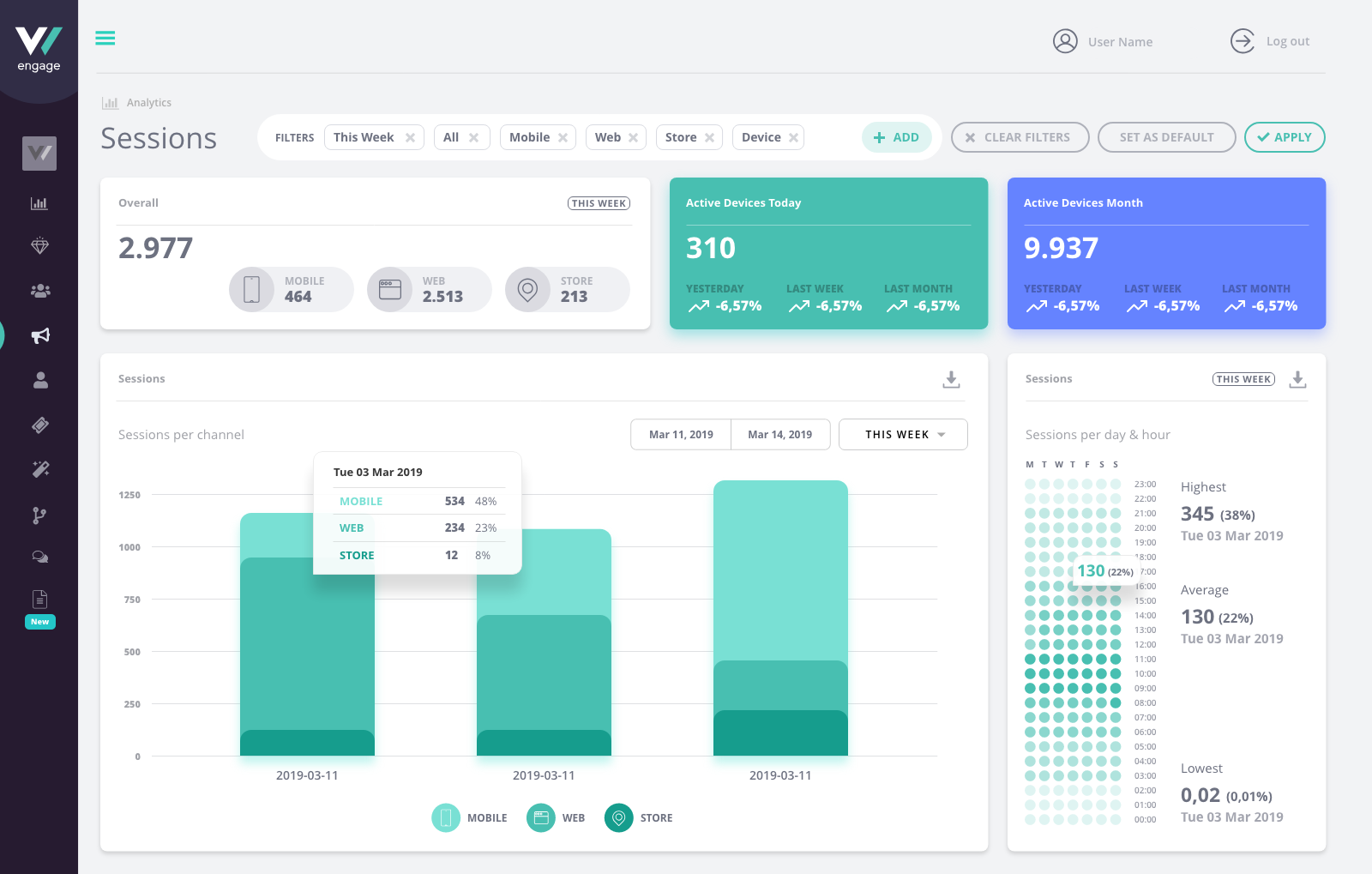 Mobile first: The users of your mobile app can instantly complete their transactions by paying through the app, without being redirected to a 3rd party environment. Easy and fast mobile payment process both for you and your customers.
Ambiguous (social) payments: Through Warply Keyboard Payments, banks can be present on all social networks and chatting apps, including FB Messenger, iMessage, WhatsApp, Skype, WeChat or Telegram. Moreover, bank apps have the ability to combine the conversational UI convenience and bank security within users' preferred messaging applications.
We emphasize on seamless customer experiences at the physical or digital point of sales, with benefits and payments being an essential part of a convenient customer check out process. Warply engage enables marketers to gain insights on users' activity and enhance engagement, loyalty and sales, thanks to real time analytics, user-level data collection, segmentation and personas creation over behavioral profiling; an effort to put its marketing and analytics stack within the last mile of the customer journey.